posted October 20, 2018
Your family members and friends may blanch at the idea of sitting through your home movies, but plenty of people do want to see them – so much so that the Center for Home Movies holds an annual event to facilitate and encourage the sharing of such records of everyday life. This year, takes place today, Saturday, 20 October. Events are being held around the world over this weekend, while other events take place throughout the year.
posted October 10, 2016
If your city has Home Movie Day 2016 events, they are likely to be taking place in the next week or two. If your town does not celebrate Home Movie Day, the Center for Home Movies can show you how to change that.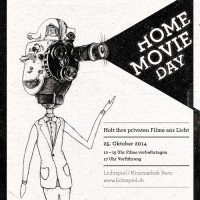 posted October 17, 2014
Saturday 18 October 2014 is Home Movie Day. Events will take place in many cities in many countries around the world. Free for anyone to take part in, the events provide opportunities to see and share home movies with community audiences. Moving-image archivists and other enthusiasts organize the events, and provide information about how to care for home movies.