The Music of Film, TV, Video Games, and More
Film on the radio – or now, on the information superhighway… There's nothing quite like it.
No matter how ardently composers of film scores profess that their work is designed to enhance and uplift the visual element of film, they are hardly likely to complain when their music is placed front and center.
Showcasing film music – whether bespoke film scores, or music borrowed to enliven a film's soundtrack — is the purpose of a vast array of specialty radio programs and Internet streaming services around the world.
You may well have your own favourites. Is so, please let us know so we can add them and keep an updated list.
Two notes:Some of these streams don't work on all browsers. And, plenty of streaming services such as this one host channels devoted to film music. Searching those services is a dizzying undertaking, but you'll no doubt find more sources of film scores and the like, there.
Accuradio soundtracks — several online streams of film-score music.
Bollywood Hindi Hits — all the greats from a dizzying vast film world.
Cinema Serenade — Rich Luzenski's program of WXUO in Auburn Hills, Michigan, streams live Wednesday 2-4pm US EST (but the show appears not to be audio archived).
Cinematic Sound – Erik Woods's website has a wealth of his programming, which began as a cable FM radio show in 1996, as well as links to other sites. Its flagship program is the three-hour The Show, and he has other streams, including This Just In!, featuring new releases; themed episodes on Film Music Mix; and The Archive with his past programming and specials.
Cinemix – a free online radio station playing only soundtracks, detailed on a playlist on the website; selections are updated "regularly," according to the French company.
The Damn Fine Cast — podcasts by Scott Johannsson and Tony Giles, from Birmingham, England, with plenty of commentary and blunt opinions about which scores gets attention, and why.
Exit Music For Films — SolarPriest hosts his program every Monday night 11pm Canadian MST on CISR 88.5FM and online at cjsr.com, and playlists are online but the show appears not to be audio archived.
Film Ear – a podcast of film-music discussion.
Film Score Focus — live or on demand, film composer Brian Satterwhite's program on radio 89.5 KMFA in Austin, Texas, archived on the site, is organized around such themes as films about newspapers, what happens to you when you're naughty at Christmas, and airplane flights.
Film Score Monthly Podcast — from a paid, subscriber service in existence since 1990; podcasts cover such topics as Star Wars music, the score for the Disney/Pixar feature The Good Dinosaur, and Keegan DeWitt's composition for independent cinema.
Film Scores — a station on the Jango free radio service that allows listeners to tailor channels to suit their tastes.
Filmic — Ley Bricknell's show, the second Thursday of each month at 2100 GMT on Radio Nowhere, which has been broadcasting for 14 years on the Live365 service, is archived for a while on the station's web site.
Filmradio — streaming soundtrack cuts, on a German streaming service.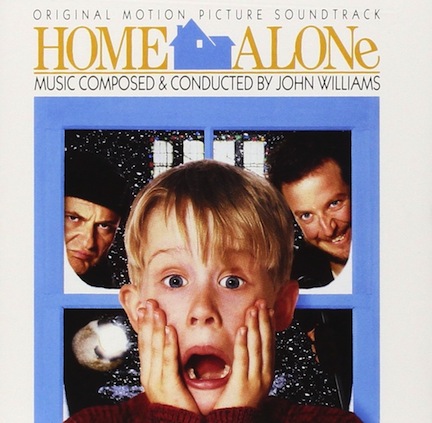 A Fistful of Soundtracks — a long-running Internet station run by Jimmy J. Aquino in San Jose, California, that srtreams music from film and television. It recently [January 2016] reported that is threatened along with other stations hosted by the Live365 Bay Area Internet-radio-hosting platform due to changes in royalty-payment laws (a whole other issue). For now you can listen on TuneIn.
Flicks in Five — in five minute spots, Lynne Warfel discusses movie scores and the like. Recent spots have focused on Elmer Bernstein's score for The Magnificent Seven, Ennio Morricone's 1986 score for The Mission, and and Michael Giacchino's music for Star Trek. From Minnesota Public Radio's ClassicalMPR.
Hits of Bollywood — golden hits of Bollywood 24 x7 without interruptions.
Klassikradiomovie — a channel on a German online streaming radio network, with very few details of what we hear.
M2 Classic – soundtrack recordings, with some classical selections, from Paris-based m2radio, again with little detail.
Matt's Movie Trax — movie scores of the last 50 years; barebones details of recordings.
The Melodist — podcasts on movie scores, from London, with themed episodes such as heroes & villains, piano themes, romance, and horror. The show ended in September 2015 due to problems obtaining licenses – a general, unresolved issue, with internet podcasts — but the first 12 episodes are still online.
Morricone Island — from WFMU community radio, Devon E. Levins's show of movie scores and soundtrack music from throughout the history of film, archived on the site, well annotated through playlists, and available through iTunes or an on-site pop-up player. Recent themes include music from films inspired by Edgar Allen Poe, films featuring music of David Bowie, and David Lang's score for Paolo Sorrentino's Youth starring Michael Caine, Jane Fonda, and Harvey Keitel.
Movie Scores – on the AOLradio Slacker service, scores from Hollywood blockbusters, award-winners and indie films.
Movie Ticket Radio Classic — a streaming service from Penn Valley, Pennsylvania, that apparently radio stations and other venues can subscribe to, to fill their schedules.
Movie Tracks — songs from blockbuster movie soundtracks on the AOLradio Slacker service.
Movies On The Radio — this WQXR radio program is no longer on the air, but several episodes are archived on the station's website, and are well worth seeking out. David Garland presented new and old film scores, and commented on them.
Music From The Movies — on KUHA, Houston Public Media, Brad Sayles airs interviews and highlights from the latest film music on Saturdays at 7pm and Sundays at 5pm, and make them available as podcasts and archived shows on the Soundcloud service.
Music From The Movies — from radio station WPRK, in Winter Park, Florida, hosts Randy Ball and Bill Smith present their informative program on Sundays from 2-4pm, archived on a Mixcloud service site.
Musicals and Movies Radio — from the Radionomy service, tunes from the world of musical theatre and the movies. Including original soundtracks and popular covers.
The Norman Bates Memorial Soundtrack Show — from KFJC in Los Altos Hill, California, Robert Emmett airs this program Saturdays 9am to noon, featuring music from throughout screen history, as well as from the stage. Here's a sample playlist. (The station archives its last two weeks of programming, and you can find Emmett's show by searching for his name.)
On The Score — from the outstanding Film Music Magazine, Daniel Schweiger interviews composers and samples and discusses their music and careers.
Radio Pak Filmi — 24-hour and commercial-free channel of classic Pakistani film songs.
RadioTunes – free membership with paid "premium" option, Movie Soundtracks is one of many channels, affiliated with Digitally Imported.
Radio Vocaloid — from Mexico, music from anime films, mixed with rock and top 40.
Reel Sound — on WHRO, a Norfolk, Virginia, public radio station, Sondra Woodward shares her lifelong affection for films and their scores. The hour-long program is archived on the site. She airs classic and contemporary scores, along with music from westerns, sci-fi, and other genres. Woodward, who is also a host on sister station WHRV of the NPR program Morning Edition, lightly describes selections.
Sada Bahar Music Radio — Internet radio playing nonstop evergreen melodies from Hindi films, plus ghazals, which many Indian film stars famously sing.
Saturday Night at the Movies — on the ClassicFM Internet service, Howard Goodall offers this Saturday-evening show of original film soundtracks, as well as classical music used in film. The programs, carried on 36 stations around the US, is archived for several weeks online.
The Score — from All Classical Public Media in Portland, Oregon, Edmund Stone's weekly show, archived online. Recent episodes have featured the scores of Sherlock Holmes films, the music of Pixar Studios, and conversations with Carter Burwell and Rachel Portman.
Scorecast Online — the podcast of ScorecastOnline.com has been running for 10 years with discussions of the art and craft of film scoring. Film composer Deane Ogden and Brian Ralston cover aspects of working in the film-music profession and analyses of film scors. Some programs focus on quite technical aspects of film scoring: for example, a discussion between Joe Kraemer, who scored Mission Impossible: Rogue Nation, with Logic expert Edgar Rothermich, author of the GEM series of Logic tutorial texts, about why both composers choose Logic as their DAW.
Screen Sounds — from Australian Broadcasting Corporation's Classic FM station, composer, conductor, and broadcaster Gordon Hamilton hosts a weekly survey of movie music, well annotated and archived, with outstanding blog postings discussing and illustrating selections.
Screen Themes, with Mark Camilleri — from University College London's RareFM, selections and discussion of movie scores, aired on Mondays at 1100GMT, and archived online.
Sideshow Sound Theatre Radio — in this podcast, composer Ian Crabb discusses the latest film and television music releases, and reports on such industry events as the Cinema Audio Society Awards and the Oscars. Links to recent episodes are on the site, while all are available for free on iTunes.
Sound of Cinema — In this BBC program, Matthew Sweet takes the music for a new film release and uses it as the starting point for an exploration of movie soundtracks on a theme from the back catalogue.
Sounds and Sights of Cinema — Clark Douglas hosts a long-running podcast in the DVD Verdict Presents series.
Soundtrack on CFMU 93.3FM — Film director Stephen Hayes and Erin Prude host this program of new soundtrack releases on Wednesdays from 10am to noon on a station in Hamilton, Ontario, and it then archives for a month on the station's site. (Access through "programming" tab, then click on Wednesday 10am time slot.)
Soundtrack.net Podcast — an archive of a series of podcasts from 2005 to 2007 on the extensive soundtrack.net website, an excellent source of information on soundtracks and film scores.
Soundtracks und Filmmusik — from Munich, and the laut.fm service, a station airing soundtrack selections.
Soundtracks with Tony Carty — from SecklowSounds.org, a community radio station in Milton Keynes, England. With deft and informed commentary, Tony Carty presents music from movies and TV shows.
Soundtrax — Mick Joest hosts a podcast from GeekTyrant, a site run since 2007 from Burbank, California, close to Hollywood studios, by volunteers who are enthusiasts of movies, TV, and video games.
Stage and Screen On-Line — as an accompaniment to their BBC radio shows, Tommy Pearson and Edward Seckerson interviewed 36 film composers like James Horner, Trevor Rabin, Elliot Goldenthal, Cliff Eidelman, and others, between 2007 and 2009. Also on the site are video interviews with George Fenton and John Williams.
Streamers and Punches — composers Kevin Wilt and Bill Withem host a monthly session on film music on the SoundNotion website. They review new releases, analyze scores from film and television, share their composing experiences, and interview composers and others involved in the movie-score business.
Streaming Soundtracks — from Richmond, Virginia, a rather old-school style of website, with discussion forums and similar features.
Top Score — Emily Stone talks about video-game music with composers who create it. For example, she talks to Johan Holstrom about his music for the mass-popular game Candy Crush Soda Saga, for which he hired the services of the London Symphony Orchestra. From Minnesota Public Radio's ClassicalMPR.
Tracksounds Soundcast — Christopher Coleman's podcast with features, reviews, and and discussions about film, TV, and video-game soundtracks. With interviews with composers and other industry professionals. A recent episode, for example, had Douglas Adams, author of The Music of the Lord of the Rings Films, Kristen Romanelli, managing editor of Film Music Magazine Online, and Eric Woods, host of Cinematic Sound Radio, discussing John Williams' score for Star Wars: The Force Awakens, with attention to new themes he introduced, and old ones he revamped.
Video Game Scores — soundtracks from modern video games, on the aolradio slacker service.
Visions In Sound — from CKWR 98.5FM in Kitchener, Ontario, Rob Daniels hosts this weekly radio programme on film, tv, and video-game soundtracks. The show has run for more than 15 years, and can be heard via live streaming every Saturday morning midnight-2am, Canadian Eastern Time (0400GMT) on www.ckwr.com. Each week's show is archived for a week on the site. Daniels also keeps an extensive Facebook page.
Yggdrasil Radio — Jpop, anime, and game music, from Minnesota.