posted December 15, 2021
The US Library of Congress has announced its annual selection of 25 influential motion pictures to be placed on the National Film Registry. Films in the registry are selected for their cultural, historic, or aesthetic importance. This year's selected films date from 120 years ago to 2008 and were made by Hollywood studios, independent filmmakers, documentarians, and even film students.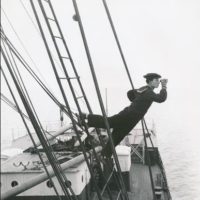 posted December 20, 2018
U.S. Librarian of Congress Carla Hayden announced on 12 December 2018 the annual selection of 25 influential American motion pictures to be added to the National Film Registry of the Library of Congress. Induction marks films' cultural, historic, and aesthetic importance to the nation's film heritage, and being added to the registry ensures that chosen films are permanently preserved.
posted September 26, 2018
Rare glimpses of George and Ira Gershwin working and socializing… Mid-20th century newsreels made for African-American audiences… Paper prints of D.W. Griffith shorts… Footage of the likes of Theodore Roosevelt, William McKinley, and Frank Sinatra… Those are among hundreds of hours of motion pictures that The Library of Congress has digitized and made freely available on its newly launched National Screening Room website.