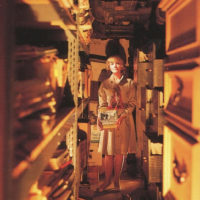 posted February 2, 2021
For decades, Lillian Michelson performed research in support of Hollywood film producers, directors, designers, and other creatives. With material she gathered in the course of her work, in 1969 she began the Cinema Research Library that now bears her name. A new chapter in the vast collection has begun with Michelson's donation of the material to the Internet Archive.
posted December 2, 2014
Jasmyn R. Castro, a moving-image archivist in training, is testing the notion that African American home movies are rare because they have rarely been made.