With its NFPF grant, the Oregon Historical Society will conserve the only known copy of The Boy Mayor, a short film shot in Portland in 1914 about the city's progressive-era experiment involving teens in local government.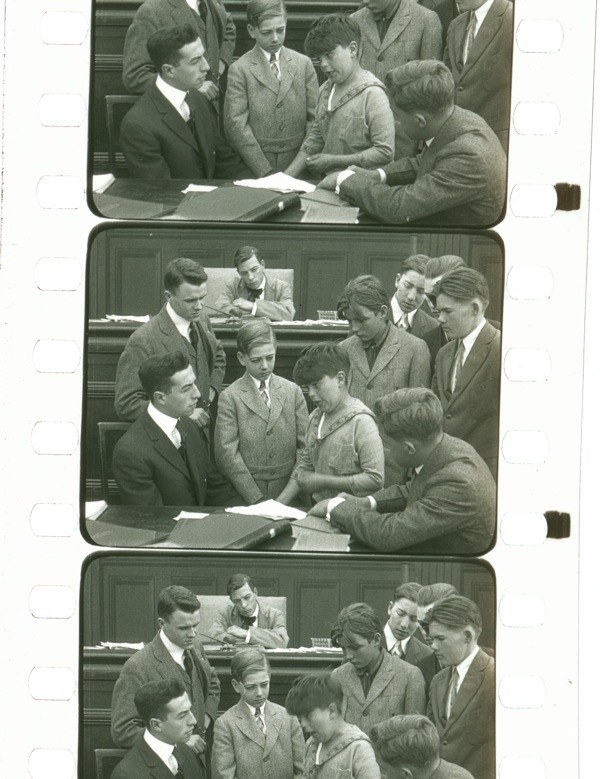 Frame grabs of courtrooms scene from "Boy Mayor"(1914), by Henry McRae, which the Oregon Historical Society will conserve. These image are from a cellulose negative. Courtesy: Oregon Historical Society.
As the Society says in a release about the award, filmmaking is a key industry in the state of Oregon, one that dates to 1897, when the first moving pictures were filmed and exhibited in Oregon.  As early as 1910, Oregon entrepreneurs joined others around the country in opening movie theatres.
By 1928, against the backdrops of windswept mountainsides, timberland logging camps, and east Portland back lots dressed as gold rush shantytowns, Oregon's film industry had produced more than a dozen full-length theatrical "galloping tintypes and horse opreys" on western, historical, and romance themes for national distribution.
A movie industry flourished in Portland in the 1920s and '30s, and then as now, Hollywood used Oregon as an economical alternative to California studios and locations.
The Boy Mayor is a 1914 silent theatrical film directed by Henry McRae, a Hollywood pioneer who directed more than 140 films between 1913 and 1933.
The Nestor Film Company produced the film; Universal Film Manufacturing distributed it. While not the first theatrical film produced in Oregon, it depicts a striking episode in Oregon history. Portland lays claim to being the only city in the world at the time with a legalized form of juvenile government operating in conjunction with the regular municipality.
The goal of the "junior government" was to lessen juvenile delinquency among boys. Eugene J. Rich, the Boy Mayor of Portland, and his private secretary, Earl Goodwin, play themselves in the film.
The Oregon Historical Society will create an optical wetgate black-and-while fine-grain negative from its 35mm nitrate print of The Boy Mayor. It will also make a 35mm color tinted answer print from the new negative preservation master. The lab will use the 35mm answer print for the transfer to digital Betacam, and will create a DVD viewing copy.
It will make viewing copies of the film available for on-site use at the OHS research library, which is open to the public. It also plans to distribute watermarked copies of the films on DVD for purchase.
Oregon Historical Society has a collaborative relationship with the Northwest Film Center, a regional media arts resource organization in Portland.  We have discussed the possibility of publicly screening The Boy Mayor there when preservation work is complete.  It is our hope that the preservation of this film will engage more people in learning about early filmmaking in Oregon.
The Oregon Historical Society educates, informs, and engages the public about Oregon's history through collecting, preserving, and interpreting the past. Founded in 1898, it holds a film archive of 15,000 film titles and one of the largest photograph collections in the western United States, estimated at 2.5 million images. It also has a priceless collection including 85,000 artifacts, 25,000 maps, 12,000 linear feet of manuscript materials, a library collection of 35,000 books, and more than 2,000 oral histories.
It runs a history museum and exhibits, educational programs, and research library. Its permanent, traveling, and online exhibits reach 750,000 people throughout Oregon each year.