Yale to Preserve Documentarian Nick Doob
posted May 24, 2016
Nick Doob has been in the forefront of American documentary-film making for decades, and now the films he made while a college student are being preserved by his alma mater, thanks to a grant from the National Film Preservation Foundation.
While still a student at Yale University, Nick Doob made a series of short works that launched his career in film. One was Plastic Saints, in which Doob took black-and-white footage of a demonstration in Washington DC that he and four fellow students attended, and intercut it with color paint-on-film loops, all set to a recording of "When the Saints Go Marching In."
As a pointed statement on patriotism, inspired by a protest that had been organized by a group that called itself the National Mobilization Committee to End the War in Vietnam, Plastic Saints (1968) might not have had the maturity of a later document of the demonstration, Norman Mailer's "non-fiction novel," The Armies of the Night. But Plastic Saints made its point about a period in American history when patriotism and citizenship were measured in a sour and reductive way. Tens of thousands of protesters' exercised their civil responsibility to speak up against misgovernance and warmongering; in response, riot police and the local constabulary arrested more than 600 of the protesters on charges of civil disobedience.
After seeing Doob's film at a small film festival, the documentary filmmaker D.A. Pennebaker, who had recently made his now-famous 1965 film documentary of a Bob Dylan tour of England, Dont Look Back, asked Doob to work with him at his production studio in New York.
The two still often collaborate, almost 50 years later, and during that time, Doob has been the director, cinematographer, or editor of numerous award-winning films, including three that received Academy Awards nominations, and one, From Mao to Mozart: Isaac Stern in China, that won an Oscar, in 1981. With Pennebaker and Chris Hegedus, Doob won a 2002 Emmy as a producer of American High, an acclaimed vérité television series; he won two for Elaine Stritch: At Liberty, an HBO production he co-directed; and recently co-directed Down from the Mountain. He has shot several of the Pennebaker Hegedus films — including Ziggy Stardust and the Spiders from Mars in 1973 and The War Room (1993) — that have made Pennebaker and his colleagues leading chroniclers of modern America.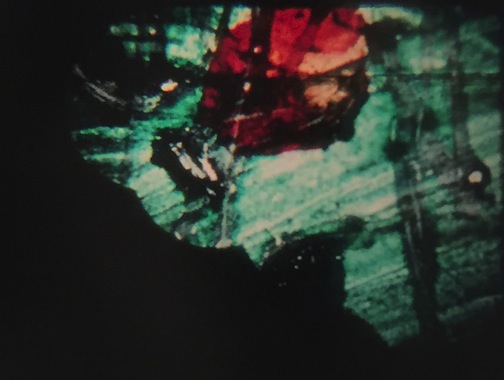 n
Doob's subjects have ranged, as the New York Times put it, "from the powerful and political to the downtrodden and afflicted," and have drawn high praise; the critic Howard Kissel, for example, characterized Doob's early Set-Up (1970) as "overwhelming in its integrity."
Now Plastic Saints and two other of Doob's student films are to be preserved with a grant to the Yale Film Study Center in the 2016 round of preservation awards from the National Film Preservation Foundation. The Yale Center will preserve the works on film and in digital format and make them available for viewing, study, and loan to other institutions, well into the future.
His student films show the prolific and acclaimed filmmaker testing out his craft, says Brian Meachem, the Archive and Special Collections Manager at the Yale Film Study Center. The Center has them, he explains, because "during a visit to campus for a guest lecture and screening for film-studies students, I met with Nick Doob and offered to provide a home for his original film elements. From the many boxes of material he brought to the archive, we focused on three of his earliest films, and applied for grant funding to preserve them."
n
n
The NFPF grant will also support preservation of Doob's 42nd St Movie (1969) and Costumed Dancer (1969). Doob made those two shorts while enrolled in the Scholars of the House senior honors program at Yale. At the time, he also worked at a small commercial film production office in New Haven and had access to a Bell and Howell contact printer, which he made use of in the creation of the film, which is a progression of shots of a dancer, stacked in layers to create multiple phasing images, all cut to music composed by Doob's friend David Sewall.
Doob made his first longer film, 42nd St Movie, while part of the Scholars of the House program, too, while he was also in a film class taught by director Murray Lerner. In 1966, Lerner had made the documentary film To Be a Man (which the Film Study Center is preserving this year [2016], too), in which he examined Yale through interviews with students and faculty members. That led to the university inviting him to teach filmmaking there. (He directed From Mao to Mozart, with Doob as cinematographer, in 1980.)
Doob's 42nd St Movie begins with a shot of the sun setting over the Hudson River in New York City, and goes on to examine the nighttime street life found in the block of 42nd Street between Seventh and Eighth Avenues. As Doob describes it, "that block was…a kind of magnet for exotic personalities, and a visually interesting location."
"The films are in good condition, for the most part," says Meacham. "For Plastic Saints, we're working from a black-and-white and color-reversal composite element; for Costumed Dancer, we have the original reversal positive and track negative; and for 42nd St Movie, we have a large set of elements, including original A/B rolls, mag track, track negatives, and two reversal prints."
"42nd St Movie"
n
This is the third year running that the Yale Film Study Center has won an NFPF preservation grant. The Center recently held a public screening of its 2014 grant film, the pioneering anthropology documentary Kapauku 1954/55 – 1959; the screening featured live narration by the filmmaker, Yale professor emeritus of anthropology Leopold Pospisil.
With previous NFPF preservation grants, the Yale Film Study Center has preserved films by Mary Ellen Bute, George Stoney, and Carl Marzani. It recently completed preservation work on its 2015 grant project, three films by animator Frank Mouris. Mouris made Quick Dream (1967), You're Not Real Pretty But You're Mine… (1968), and Chemical Architecture (1968) while a graduate student in the Yale School of Art and Architecture, and went on to win an Academy Award for Best Animated Short for his Frank Film in 1974.
---
Printed from Moving Image Archive News: http://www.movingimagearchivenews.org
URL to article: http://www.movingimagearchivenews.org/yale-to-preserve-master-documentarian-nick-doob/
Click here to print