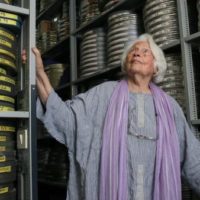 posted November 29, 2021
To show what life has looked like in Israel since its founding in 1948, the Israel Film Archive at the Jerusalem Cinematheque has reached a significant milestone. It has completed work on providing English subtitles to all the newsreels in its online collection. It is doing the same for its feature films, which show what creative minds have made of the country.
posted March 5, 2021
What did the State of Israel look like at its founding in 1948? What ads ran on TV in 1970? What did vacationing on the seaside look like in 1968? Since the Israel Film Archive launched its new website in September 2020, it has attracted well over 500,000 visits from people interested in finding out. Visitors have also been able to stream feature films, there, and many other audiovisual recordings.
posted August 12, 2020
The Israel Film Archive wants your home movies, whether you're within Israel or anywhere in the Jewish diaspora. But collecting home movies is just part of a larger project of Russo Meir and his colleagues at the Archive. As the Archive is the official institute responsible for the collection and preservation of Israeli films, they want to be able to provide original reels or digital copies of every film ever made in the country.