British Pathé Throws Its Archive Up
posted April 23, 2014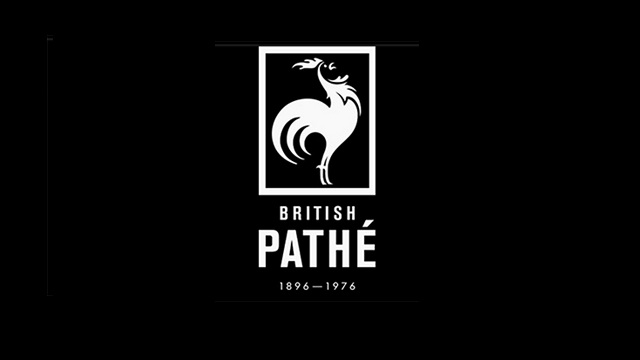 The era of ready access for anyone to vast collections of film is upon us. Even the notion of a digital "library of everything" is mooted as far from far-fetched. And British Pathé has just done its bit: It has placed its entire collection of films on YouTube – 85,000 titles: 3,500 hours of viewing, in high resolution.
Officials of British Pathé say they hope their striking action will both make its archive of historical news reports and cinemagazines readily accessible from anywhere in the world, and also spread word of what it holds.
The company has already made its archive available on its own website, but now "our hope is that everyone, everywhere who has a computer will see these films and enjoy them," says Alastair White, General Manager of British Pathé. "This archive is a treasure trove unrivalled in historical and cultural significance that should never be forgotten. Uploading the films to YouTube seemed like the best way to make sure of that."
Benefits of the public posting may include allowing users to embed the films on other websites, potentially increasing their commercial and educational usage.
Officials are hoping to reap a less-obvious benefit, too: that members of the public, YouTube's one billion boasted users, will browse the enormous collection and find items, sequences, and images that have escaped archivists' notice.
n
n
On its own website, British Pathé organizes its material into several broad categories: Entertainment & Humour, Fashion & Music,  Historical Figures & Celebrities, Lifestyle & Culture, Religion & Politics. Science & Technology. Sport & Leisure, Trade & Industry, Travel & Exploration, and War & Revolution.
Its YouTube sorting is similar, but also parses out the collection this way and that in suggestive playlists that speak to the archive's goal of popularizing its collection, such as War Footage, Royal Family, Pre-1910 Footage, and Disasters Caught on Film.
Presumably to indulge the current media indulgence in "best of" and "top 10" compilations, and public appetite for them, British Pathé also has created such programs of footage as 10 Great Urban Myths, Fantastic Inventions, The Queen's Hats, Most Dangerous DareDevils, 10 Tragedies Caught on Film, and 10 More Tragedies Caught on Film.
n
n
The "10 Tragedies Caught on Film," including Franz Reichelt's fate attempt to parachute from the Eiffel Tower in 1912; Frank Lockhart's very unsuccessful land-speed-record attempt of 1928; the Hindenburg crash of 1937 that killed 35 people, footage with chilling audio; the 1941 sinking of HMS Barham by a German submarine, killing well over 800 men; and "bird man" Gerard Masselin's fatal jump on 1963…
The German company Mediakraft, a specialist in packaging and disseminating video content via YouTube, is managing technical aspects of the project. With British Pathé, it will create new material in English and other languages "to ensure that our archive content will continue to act as a pioneer in moving images and retain its heritage for future generations," says Roger Felber, Mediakraft's director.
Pathé's former glory
British Pathé was once a dominant player in British cinema thanks to its fine and far-flung reporting and entertaining style (some might call it a little too clever, and certainly it is now dated in, for example, its frequent condescension to women, among others). In 1896, Charles, Émile, Théophile, and Jacques Pathé had formed its parent company, which quickly became Compagnie Générale des Établissements Pathé Frères Phonographes & Cinématographes. It swung into film production within a decade of the first capture of motion picture images.
n
a
The British Pathé collection goes as far back as 1895, and contains footage taken as late as 1976 from Britain and around the globe. The collection's purview is broad: major events, famous faces, fashion trends, travel, sport, culture… The material includes vivid pictures of almost forgotten lifestyles, peculiar technical inventions, and everyday life that British Pathé presented in newsreels, cinemagazines, and documentaries from 1910 until 1976. "You can lose yourself for hours," White observes.
"Princess Elizabeth Is 21": Once, she was a spirited young woman able to chase sailors around a ship deck.
The earliest film in the Pathé archive is the Edison Manufacturing Company 30-second plotless, characterless New Blacksmith Shop (1895), directed by William K. L. Dickson. Also among the collection are another 138 clips from before 1910, the year of the first newsreel issue by British Pathé, the UK arm of Pathé Frères.
n
n
Holdings from 1896 include film of Hyde Park Corner and Brighton. Soon after came film of the funeral of William Gladstone on 28 May 1898, the second Boer War of 1899-1902, the coronation procession of Edward VII in 1902, Queen Victoria at a garden party, her Diamond Jubilee and her funeral, the 1906 San Francisco Earthquake, and the 1908 London Olympics.
http://www.britishpathe.com/video/queen-victoria-in-dublin/
In an essay on British Pathé's website, James Hoyle, the archive's coordinator, describes a complex history that explains how British Pathé emerged from successive sales and acquisitions of arms of its French parent company to become one of the great film companies.
The parent company invented the newsreel in 1908 with Pathé-Faits Divers, renamed Pathé Journal in 1909. In 1910, it launched an American newsreel arm to produce Pathé News, and a newsreel production office in London which produced its first British newsreel in 1910, augmenting distribution in the UK of French material since 1902 from a Westminster distribution office. Pathé-branded movie theatres soon spread across Western Europe.
Also among its earliest footage are depictions of the 1910 departure for the Antarctic of Capt. Robert Falcon Scott's Terra Nova, the coronation of George V, the RMS Titanic, and the death of suffragette Emily Davison.
Many items from British Pathé's extensive collection of "often awesome and sometimes harrowing" World War One material and the events in them remain unidentified, notes archive coordinator James Hoyle.
http://www.britishpathe.com/video/trenches
Footage from the Western Front … probably.
Through a complicated set of sales and splits, Pathé-branded newsreel and film production became divorced from its overseas parent and sister companies.
[In 1918, Pathé split into Pathé Records for music and Pathé-Cinema for films and newsreels. USA Pathé passed through various hands before disappearing from cinemas in the 1950s. Various other assets including the French film production arm, the international cinema chain, and the French Pathé Journal newsreels eventually became the present-day film company Pathé. The newsreel archive of Pathé Journal includes items from up to 1981, and now lies with Gaumont-Pathé.]
In 1927, the UK arm of Pathé-Cinema sold to become First National-Pathé.
Even though sound revolutionize film during the 1930s, the future of the Pathé brand was uncertain until 1933 when British International Pictures bought the Pathé newsreel and feature film brand. It formed Associated British-Pathé whose newsreel staff became increasingly ambitious. They created, for example, 340 episodes of the News In a Nutshell roundups. Among variety programs was one Hoyle identifies as "a little-known gem," Would You Believe It?, which offered footage of unusual animals, bizarre technological breakthroughs, and the like.
Among other variety programming – perfect now for amateurs of the camp and the kitsch – was Feminine Pictorialities, a successor to the 1920s Eve's Film Review which brought ladies news and tips on fashions in clothes, bathers, and hats, hairstyles, and sport.
A clear index to how extensively British Pathé covered the globe is that it was at so many disasters and significant world events, or at least secured footage from cameramen who had.
War, unsurprisingly, produced extensive collection of dramatic material, including events at Dunkirk and the D-Day Landings.
The companies Pathé spawned in the UK, France, and the US collaborated after the war to ensure greater worldwide distribution. Meanwhile, Associated British-Pathé was producing feature films and commercials, and even television programming such as Film Fanfare, a 1950s magazine of popular culture. For Hoyle the most impressive example of the television work was Peter Baylis's Time To Remember which repurposed earlier footage about a wide range of subjects, narrated by such celebrities as Michael Redgrave and Ralph Richardson. "Its charm was such," writes Hoyle, "that in 2010, the BBC re-edited and re-broadcast the series for a modern-day audience, retaining much of the original commentary."
Nonetheless, television coverage by the BBC and others began to erode British Pathé's utility, appeal, and perceived timeliness. Just as significantly, Hoyle says, "the newsreel format was also beginning to look tired, with outdated patriotism at odds with the postcolonial attitudes of the British public (particularly during the Suez Crisis). By the end of the 1950s, Pathé News was already struggling to compete. The 1960s would witness a shift in the nature of the company's output as it tried to survive."
Indeed, it did not. And by decade's end it had made the transition to a film archive that soon was picked over by television producers as it passed hands until The Cannon Group sold the newsreel archive in 1987 but kept the feature-film arm of Associated British-Pathé, separating the Pathé-branded UK feature film and newsreel arms.
Hoyle's history has the tale, from there, of the fate of the two, separated branches. In the 1990s, British Pathé News produced such products as the series A Day That Shook the World and Twentieth Century Hall of Fame. In 1995, the Daily Mail and General Trust bought the company and shortened its name to British Pathé. It has since remained a source for filmmakers and others while all its holdings were digitized, in part with National Lotteryfunding.
British Pathé Ltd became an independent archive with a museum subscription service in 2009, with increased licensing and programming, and expansion onto its website and other online sites such as Facebook, Twitter and now a YouTube channel.
Just how well can one fritter away hours and days poring over British Pathé clips?
n
n
With little effort, edifying footage can be located. — about the standardization of British English; summaries of world history advised by leading historians; a sketch of the fate of rum during Prohibition; self-promotional samplings to prime the British Pathé pump.
Flitting about with nothing but curiosity one evening can take you to the first wireless telephone from 1920; a a 1951 British-pat-on-the-back machine to boost men's confidence; a lurid 90 seconds from 1935 about a 10-stone (140 lb.) three-year-old baby who "is examined by the doctor every day, just to see that there's no fear of his bursting; images relating to the sinking of the Titanic including its Quartermaster Hitchens soon after he was saved although he went down with the ship; window cleaners on the Empire State Building in 1939; a man hanging by his hair from a plane; W.T. Benda, the terrifying mask man, 1932; footage from the Battle of the Somme, 1916; a documentary short on the 1955 London première of A Star is Born; a short on Malcolm Pickard's 1965 invention, the "snogometer"…which he also tested on himself; the building of the Empire State Building in 1930; and a 1961 Hampton Middle School, Middlesex, attempt on the world record for number of persons on one bed…
You could skip without loss Arnold Schwarzenegger winning Mr Universe in 1969.
n
---
Printed from Moving Image Archive News: http://www.movingimagearchivenews.org
URL to article: http://www.movingimagearchivenews.org/british-pathe-throws-its-archive-open-and-up/
Click here to print